At Custerpoint Dental, getting Invisalign in Plano, Texas, has never been easier. Led by Dr. Tam and Dr. Chiem, the dental team at Custerpoint Dental provides the most advanced and innovative orthodontic treatments available to help you achieve a beautiful smile.  
Dr. Tam and Dr. Chiem have built a reputation for providing the highest quality of care, and they have the expertise and experience to ensure that you get the best results from your Invisalign treatment. They will help you understand the Invisalign process and answer any questions. They will work with you to determine the best course of action for your individual needs and lifestyle.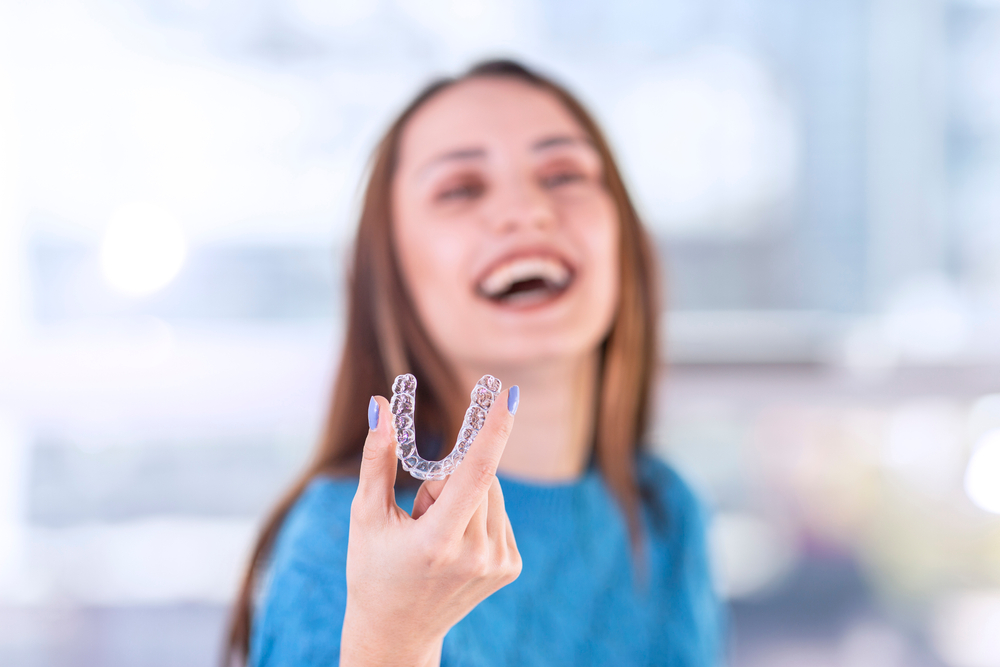 What is Invisalign?
Invisalign is a revolutionary orthodontic treatment that uses clear aligners to straighten teeth. Developed by Align Technology, Invisalign has become one of the most popular orthodontic treatments available today. Invisalign has changed how people view orthodontic treatment, providing a more discreet and comfortable option than traditional braces.
How Does Invisalign Work?
Invisalign uses a series of custom-made, clear aligners created from 3D scans of your teeth. Each aligner is designed to fit over your teeth and gently move them into the desired position over time. You will typically wear each aligner for a minimum of two weeks before progressing to the next set. The total treatment time can vary depending on your individual goals and can take anywhere from nine to fifteen months.
What are the Benefits of Invisalign?
Invisalign is an excellent option for those who are looking for more discreet orthodontic treatment. The aligners are nearly invisible, making them ideal for adults who may feel self-conscious about traditional braces. Invisalign can also be removed for eating and drinking, allowing patients to maintain their regular diet without worrying about damaging the aligners.  
In addition to its cosmetic benefits, Invisalign offers several advantages over traditional braces. Since the treatment is more comfortable and less invasive, there is typically less pain associated with Invisalign than conventional braces. Patients also report it improved oral hygiene with Invisalign since you can easily remove the aligners for brushing and flossing.
Am I a Candidate for Invisalign?
Invisalign is an effective and reliable treatment for those looking to straighten their teeth. However, it is essential to remember that not all patients are good candidates for Invisalign. Invisalign may not be able to treat more complex cases, such as those that require significant bite corrections or jaw surgery. It is also important to note that while Invisalign is an excellent option for many people, it is not a replacement for regular dental care. It would be best if you still visited Dr. Tam or Dr. Chiem regularly during and after Invisalign treatment to ensure that your teeth and gums remain healthy.
How to Care for Your Clear Aligners
Caring for your aligners is simple!
Rinse your aligners after every meal or snack. It is important to rinse your aligners with lukewarm water to remove any food particles that may become trapped in the aligners.

Brush your aligners at least once a day. Use a soft-bristled toothbrush and mild, non-abrasive toothpaste to brush your aligners gently.

Soak your aligners in a denture cleaner or a mild soap solution. Soaking your aligners in a denture cleaner or a mild soap solution will help keep them clean and free from bacteria.

Avoid using hot water. Hot water can warp or distort the shape of your aligners and make them uncomfortable to wear.

Store your aligners in the case provided. Storing your aligners in their case ensures that they are not exposed to bacteria or other contaminants.

Avoid eating with your aligners in. Eating with your aligners can cause food particles to become trapped in the aligners and may lead to an unpleasant taste.
Invisalign in Plano, TX
Overall, Invisalign is a great option for those looking for an effective and discreet orthodontic treatment. With its many benefits, Invisalign can help patients achieve a beautiful and healthy smile without the hassle of traditional braces.
If you're looking for an experienced, knowledgeable, and caring dental team to help you achieve your best smile with Invisalign, look no further than Custerpoint Dental in Plano, Texas. Dr. Tam and Dr. Chiem have the skills, training, and experience to ensure that you get the best results from your Invisalign treatment in Plano. Schedule an appointment today.